If you cannot read the message below, please click here.

Customized thumb drive

not only provide visual appearance for logo printing, you can also pre-install data into pen drive for corporate branding and products marketing, which vividly introduce the company organizational structure, business philosophy, product services and other related businesses. The advertising contents present to user are visible as long as users utilize the pen drive. Life span for each pen drive is roughly 5-6years, which mean an enterprise only need to invest money for one time only but earn few more years advertisement in return. Therefore, establishing good reputation among customers will provide more credibility and authenticity to your company, and encouraging potential customer in future.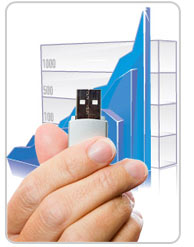 1.

General Consumers

: The most effective group from the pen drive advertisement, intimate sales and practical sensation can greatly enhance customer desires to purchase by having a good grasp of the new products.

2.

Investment

: Pen drives have broke the traditional pricing plan of advertising, advertisers can set their own spending budget and sent to target customers, stylish yet innovative.

3.

Preciseness

: Pen drives are able to reach the targeted consumers, achieve one-to-one communication, strong and effective with 100% readability.

4.

Flexibility

: Pen drive earns the most flexibility, advertiser can amends advertising content without any limitation and cater to advertiser's needs.

5.

Effective branding

: It has an instantaneous impact towards advertising media, strong and persistent and can't be surpassed.

In other words, choosing the right gifts consist of great knowledge. We must not neglect its practically just because it is cheap. Inappropriate gift will bring unexpected result or even bring some negative effects. A gift reminds customer who you are and also require customer to understand your products, of course a gift shouldn't entirely consist of advertisement, the gift should serve its purpose and allow consumer to feel handy, so that they will remember you as well as your company and products.



1. Correct ways to insert and remove pen drives: Never pull out the flash drive when the flash light still blinking, because if the pen drives are still reading or copying data, remove drives halfway may cause serious damage to the hardware. Do not shut down the program even though you have finish backing up data, because the transferring process might still going on even though the monitor doesn't show. You should wait for a while after the back up is done.

2. Please take note when expose pen drive in a dry environment, do not let pen drive comes in contact with air for too long, otherwise can cause the metallic surface to oxidize, decrease USB port sensitivity.

3. Do not allow pen drive to occupy on the USB hub even when not using, otherwise one can easily lead to aging of USB port, causing pen drive to wear out..



About Us:
Nand Digital Corporation Sdn Bhd is the nation's premier choice for creative development and new media. We consult with each client to discover and highlight and deliver a distinct competitive edge. "Trust" is the foundation of Nand Digital Corp's approach in businesses and it is subsequently the key for its success. Nand Digital Corp. has created a sustainable partnership with its suppliers and clients. Through the company's rigorous quality control and monitored testing environment, Nand Digital Corp can guarantee to supply the highest quality products.
NAND DIGITAL CORPORATION SDN BHD(623723-w)
43-2-2 Block G, Jalan 3/101C, Cheras Business Centre KM 8 Jalan Cheras, 56100 Kuala Lumpur.
tel:+603-9133 3808 fax:603-9132 3808 url:www.nandigital.com

CD Duplication • CD Replication • DVD Replication • PenDrive Design • Thermal Print • Inkjet Print • Silkscreen Print • Offset Print
Flash Animation • Interactive Website • E-book Creation • 3D Animation • CD/DVD Packaging • Product Assembly • Distribution
To subscribe our newsletter,any questions or comments, please:
E-mail us at

admin@nandigital.com

or call

03-9133 3808
Copyright © 2010 Nand Digital Corporation. All rights reserved.