Disc Productions - DVD Duplication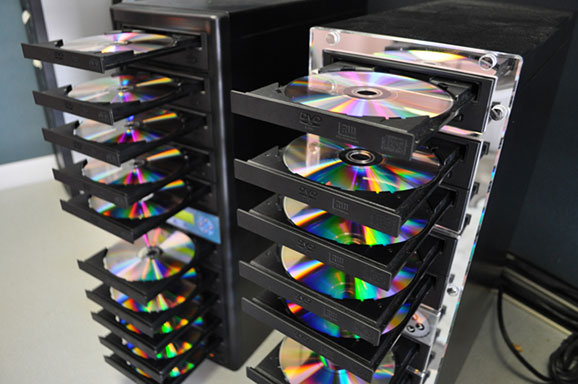 DVD Duplication Service
Unlike Compact Disc, DVD stand for Digital Versatile Disc or Digital Video Disc. It has the exact same size and look compare to CD, but store more than six times as much data.

Commercial DVDare duplicated in certain quantities(1pc-500pcs) using a master version created from a source recording. DVD duplication can be divided into few genres: DVD-R / DVD+R also known as DVD-ROM which is "recordable" DVD which can only be record once and function as normal DVD-ROM. DVD-RAM, DVD+RW and DVD-RW are known as "rewritable" DVD which can all record and erase data as many times as you want.

The DVD Duplication itself can either in Audio DVD and DVD-Rom but due to its large storage capacity it is mainly use for video and data storage.
What is it?
DVD duplication is often referred to as 'DVD burning', this is where your video or data is copied onto blank DVD recordable discs using banks of dedicated high-speed duplication drives. Typically, DVD Duplication is for quantities up to 1000 discs, but obviously higher numbers can be manufactured this way when longer DVD Replication timescales will not allow.
Why DVD Duplication?
Low volumes
Copy exactly the number of discs you need, no minumum quantities.
Time, on lower volumes
Up to 1000 discs can be turned around in just a few days
High quality media
We use reliable, high grade, recordable DVDs to guarantee the quality of your product.
Working samples
Before placing your order, printed, working, samples can be produced for evaluation.
Master & artwork.
It can be supplied separately, so printing can be done first and duplication can be done at the last minute.