Disc Printing - Silkscreen Print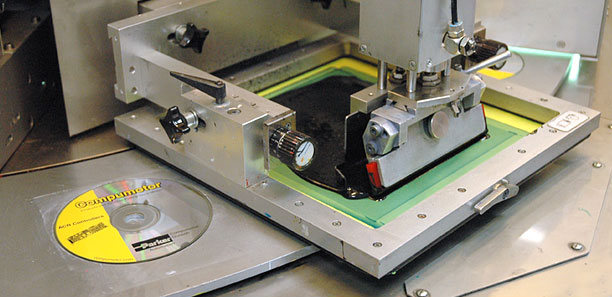 Silkscreen Printing Service
Our CD/DVD duplication and CD/DVD replication provide duplicating your CD/DVD contents from blank CD/DVD media to a fully functional product for company branding. When you order our CD/DVD duplication and replication service you are entitled to choose your own CD/DVD printing methods.

Each CD/DVD printing have their own advantages and disadvantages, the differences include cost per unit, quantity of your CD/DVD duplication and printing, quality of your CD/DVD print and etc. CD/DVD silkscrenn printing allows maximum use of 3-4 colour either in CMYK or pantone colours, it is ideal for printing text and logo
What is it?
Silkscreen printing uses a fine nylon mesh stretched tightly over a frame (the Screen). Images are created by blocking parts of the screen using photographic techniques (the films), and ink is then forced through the open areas of the screen, using a squeegee, onto the disc face. Each colour printed requires its own film and screen, so a four colour process job will need at least four films and four screens (one each for Cyan, Magenta, Yellow, Black, and possibly a white base).
Why Silkscreen Print?
Replicated & Duplicated discs
Screen printing is available on recordable as well as pressed discs.
Use the mirror surface
The shiny surface of the disc can be used as part of the disc face design.
Pantone Colours
Individual 'spot' colours can be printed if you need an exact colour matched.
Standard method on duplicated discs
All our replicated CDs are screen printed unless offset printing is chosen or recommended instead.
Cost on high volumes
Best for high volumes as setup costs become more significant with lower numbers.
Print only?
Discs can be supplied blank, but printed. Maybe you have your own duplicator or you burn 'one-offs' for distribution.