Disc Printing - Offset Print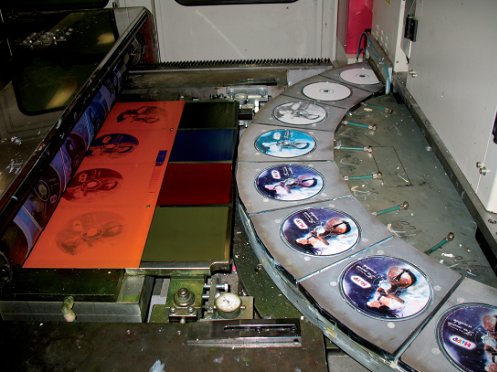 Offset Printing Service
Our CD/DVD duplication and CD/DVD replication provide duplicating your CD/DVD contents from blank CD/DVD media to a fully functional product for company branding. When you order our CD/DVD duplication and replication service you are entitled to choose your own CD/DVD printing methods.

Each CD/DVD printing have their own advantages and disadvantages, the differences include cost per unit, quantity of your CD/DVD duplication and printing, quality of your CD/DVD print and etc. Offset printing applies CMYK 4 colours (cyan, magenta, yellow, and black) onto the CD/DVD surface. For each layer, a reverse image of the design is placed on a roller in the printing press.
What is it?
When offset CD print, four plates (CMYK) need to be manufactured from your original artwork. Each plate is used to transfer an inked image onto a rubber blanket that has been mounted on a cylinder. The rubber blanket then transfers (or offsets) the inked image onto the disc as it passes through the press. As the disc moves through the press, the four colours combine to create a high resolution picture on the face of the disc.
Why Offset Print?
High quality photographic images
Images incorporating tints and gradients, such as photographs, are particularly suited to Offset Printing.
Tough matt finish
Gives a smooth, scratch resistant, matt finish - but can be gloss with the application of a special varnish.
Use the mirror surface
The shiny surface of the disc can be used as part of the disc face design.
Replicated & Duplicated discs
Offset printing is available on recordable as well as pressed discs.
Standard method on duplicated discs
The majority of our duplicated discs are inkjet printed, giving excellent results.
Cost on high volumes
Best for high volumes as setup costs become more significant with lower numbers.
Print only?
Discs can be supplied blank, but printed. Maybe you have your own duplicator or you burn 'one-offs' for distribution.